Smiles by Design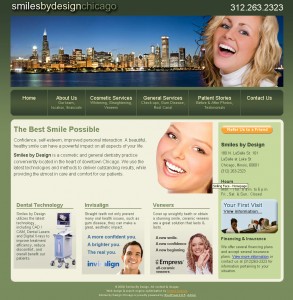 The client, who created the initial 10-year old website using Frontpage, was my dentist at the time. For many years, I commented on how I could freshen up the look of his website while increasing the chance the site would rank better on the search engines. After several off and on discussions over a period of years, he finally decided to take me on. After an audit of the current sites's content and a redesign of the site's information architecture, we wireframed and mocked-up the website. After a change in overall direction (from general to more cosmetic dentistry), I delivered the final standards-based site. The site marked a milestone as my first WordPress-based site.
Highlights
About the site
Completed August 2009
Redesign of established, website for Chicago dental practice.
Work performed
Web Design & Development
Flash animation creation
Search Engine Optimization (SEO)
WordPress Theme Development
Information Architecture, Wireframes
Technologies Used
(X)HTML
CSS
PHP
JavaScript
Flash
WordPress
Applications / Tools Used
Adobe Dreamweaver CS3
Adobe Photoshop CS3
Adobe Flash CS3